Gallery
ACPSI
Photo showing an ACPSI 450 mw unit tandem compound quadruple flow installed by Ken Field of The Next Turbine Corporation. This unit holds the Worlds record for the number of startups from turning gear to full load. Over 3,500 starts since 1980.
---
Westinghouse
Overhaul of two double flow LP turbines on a 670 Mw Westinghouse turbine generator. Photo shows both LP turbines disassembled.
---
GE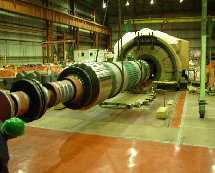 Photo right: Installing the generator field in a large GE hydrogen cooled turbine generator.
---
LP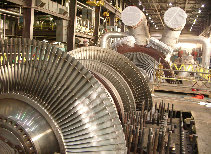 Photo right: Westinghouse 670 MW LP Turbine rotor set in place ready for clearance checks.